At a point, you may find it necessary to track a phone number. This may be to find your own device, locate a family or friend or even track down an unknown caller id. Advancement in technology has made this available in Ghana.
This brings us to the main purpose of this article which is to provide information on how to track a phone number in Ghana for free, including the factors or reasons that may lead a client to track his or her mobile phone number in Ghana for free.
Reasons Why Someone Might Want To Track A Mobile Phone In Ghana
Before anyone tries to track a phone number, the individual ought to have personal reasons why they would want a lost phone number in Ghana. Here are some of the reasons below as we have gathered.
Long Use of Mobile Phone Number: Some clients might have used their mobile phone number for a very long time and hence have become very used to it. for example, when you use your mobile phone number for a couple of years in Ghana it becomes easier for the client to remember their phone number instead of the new one.
Loss of Vital Information: Sometimes too the client cannot afford to lose some essential elements on the phone such as relatives contacts, friends contacts, and even business partners contacts. these are important to the client and just tracking it will help the client to retrieve all their important contacts.
Fear of Financial Loss: Nowadays, with the introduction of MTN momo, Vodafone Cash, Airtel tigo money, and other monetary transactions by service providers, people now have the luxury of buying things from the comfort of their beds. This is all possible because of a mobile phone number registered in Ghana under the momo transactions. So imagine losing this mobile phone number you risk losing all your money on your phone number.
To Prevent Impersonation: This is one of the reasons why we should do our very best to track our mobile phone number in Ghana, when it falls into the wrong hands it can be used to implicate or frame the owner of the mobile phone number and hence may lead him or her into trouble. for example, your mobile phone number can be used to make a call or even used in a fraudulent transaction you are not even aware of which may all lead to your doorstep.
What Is A Phone Number Tracker?
A phone number tracker is a service that allows you to input a phone number and get every detail of information about the user associated with it. It lets customers track a personal phone number by showing its location and basic carrier information.
It involves a person's name, address, email address, and sometimes their social media accounts. it is an invaluable tool for finding someone in Ghana quickly and easily.
How To Track Phone Number In Ghana For Free
In recent times tracking a mobile phone number, especially in Ghana is a bit less difficult compared to the olden days thanks to modern-day advanced technologies which have emerged and evolved with time.
A lot of free and paid apps can easily be used to track or trace the owner of a specific phone number. But before you can track any phone number you need the following requirements;
A mobile phone or laptop
A stable internet connection
The mobile phone number to be tracked
Now, there are various methods people use to track a mobile phone number in Ghana for free, some track it through the following methods, so we are going to discuss these methods one after the other
1. Track A Phone Number Online
There are several mobile apps in the market that is used to track mobile phone number in Ghana for free to find their location, some examples of these apps are Hoverwatch, Trapcall, and TrueCaller ID. For example, let us demonstrate how to use TrueCaller ID to track a mobile phone online in Ghana for free.
Steps Involved In Tracking A Phone Number Online
Go to Google and install the Truecaller app
After installing the app, launch it then tap on get started
Enter a mobile phone number to be tracked then tap Continue
Truecaller will identify the number before you call
Pros
It gives you access to detailed caller information
There are high conversion and retention rates
It helps you to find a loved one During an Emergency.
Finding Your Cell Phone If It Lost
Helps you to meet up with friends quickly.
Keeping track of drivers especially those that carry company goods from one city to another
Managing Workers and Ensuring Compliance.
Cons
Allow users to inadvertently share their whereabouts with stalkers.
It does not ensure privacy
2. Track Phone Number By IMEI
IMEI is the International Mobile Equipment Identity, which is a 15-digit code on the backside of every mobile phone device. An identification code allows the manufacturer to give a device a particular international identity. Tracking a phone with its IMEI number requires you to have two things:
A mobile phone app
Your IMEI number
How To Find Your IMEI On Android Devices
Go to your phone's dialer. Dial *#06#.
Check your IMEI. device information
Copy it. see it is easy
How To Find IMEI on iPhone
Go to your "iPhone Settings" once more.
Head to "General".
Tap "About" and find IMEI below the Model & Serial Number. copy imei
Steps Involved In Track Phone Number By IMEI
Go to Google Play Store and search "IMEI Tracker find my device".
Look for the app with the same name. IMEI tracker finder
Head into it and tap "Install". IMEI tracker
Let it install, then run the app. Then log in using your Google account.
Let it track your phone's location and tap on the location icon to scan it. live location Once your phone is set up, you can use the "get lost phone" command. For that, head to the "Security Command" to be able to track your phone from another device and Toggle on all these settings. This will allow you to send messages to your contacts from your stolen or lost phone, Set customized SMS notifications, and also get your IMEI information in the email
Pros
Give the mobile phone a unique identity
Match the number on the phone with the number on the box
Block the device in case it's stolen or theft
Locate or track a device
Cons
Phone location services need to be activated
You need a stable internet connection
3. Track Phone Number By Name
You can track mobile phone numbers by name in Ghana by using the Google search app, caller ID, or any other app deemed appropriate. for example, let us demonstrate how to use google maps to track a mobile phone online in Ghana for free.
Steps Involved In Tracking a Phone Number By Name
Open the google maps app on your device
Type in the gmail or number of the person you want to track into the search bar and enter
Wait for a few seconds for google maps to show you the location of that person based on their phone number
Pros
Easy to find phone
You can connect with friends
Cons
It depends on the internet connection
Your privacy is not maintained
4. Track Phone Number By Location
Before technology was as advanced as it is today, it required you to seek permission and help from the cell network provider to trace a phone number's location. With the proper application and a solid internet connection, it is possible to find someone's location as long as they have GPS on their phone, which most smartphones today anyway do. GEO Finder is an example. Let us demonstrate how to use GEOfinder to track a mobile phone online in Ghana for free.
Steps For Using Geofinder To Track A Phone Number
Enter the mobile phone number you want to locate in the provided field.
Create a message that makes them approve access to their location( customize the message), specify the sender name
Get a notification as soon as GEOfinder locates the person on a map, then you view their accurate position
Pros
It is quick and reliable
It gives you the exact location of the mobile phone number
Cons
It requires payment
You need a stable internet connection
5. Track A Phone Using Find My Phone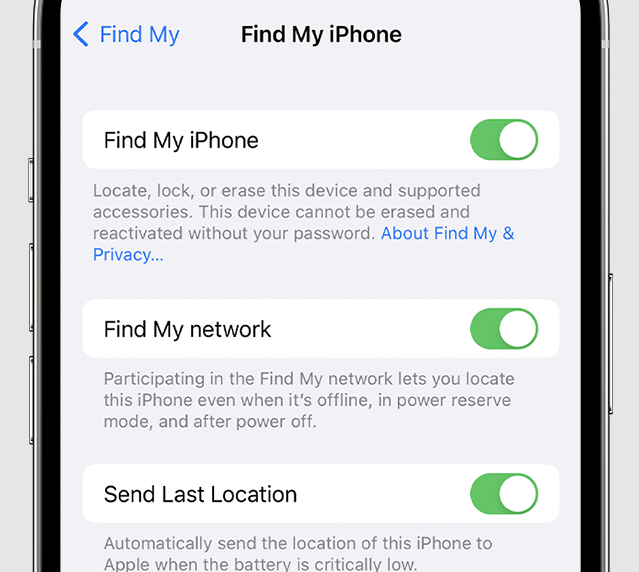 Find my phone can be found in your mobile phone settings on both Android and iPhone. Below is how you can track an iPhone or Android phone using the Find My Phone feature:
iPhone
On your iPhone, open settings.
Choose iCloud.
Switch on the Find My Phone tab.
To find your lost phone or to track someone, you must first have the Apple ID of the person or your lost device.
Now, provide the needed requirements and tap on Find My Phone.
Notification will be sent to the device anytime you ping its location
Android
On your phone, open the settings app
Scroll through and locate security settings
Look for "remotely locate this device."
Switch on "Remotely locate this device"
Switch on your phone's GPS
You can locate the device by turning on the Android Device Manager
Now, insert the Gmail address of the phone or person you want to track and log in.
After logging in, Google will inform you of the location of the phone. Also, you will see the history.
Conclusion
This article has enlightened and given us an insightful and educative idea about "HOW TO TRACK A PHONE NUMBER IN GHANA FOR FREE"
This is what we do to give you the reader the best of everything we have got. we also talked about a lot of things in this article such as "Reasons why someone might want to track a phone in Ghana for free.
The purpose of the article is to provide information on how to track a phone number in Ghana for free and also discussed the different methods that can be used to track a phone number in Ghana for free.
We went ahead to give some examples of these methods and their examples such as tracking phone numbers online, tracking phone numbers by IMEI, tracking phone numbers by name, and tracking phones by location together with the Cons and Prons of each method.
You are the reason we write content like this. You can support our work by sharing this article with your friends on social media. We will also want to as encourage our cherished readers to try one of the methods discussed in the article. Thank you