There are over 30 commercial banks in Ghana and the banking sector clean-up exercise since 2017 has created a more vibrant and more efficient banking sector. The banking sector clean-up exercise was a regulatory exercise that cracks down on poor practices and weak capital positions. This has led to an even more vibrant banking sector and significant growth among various banks and has even led to building more customer trust and clean financial positions that have led to great growth.
The various banks have demonstrated excellent financial standing, and strong customer relations and have gained great customer trust among their competitors.
Top 10 Best Banks in Ghana 2023
Choosing a bank is not something that one can abruptly do. It has to be an informed decision. Factors like customer service, maintenance rate, services (account types and benefits), account and funds security, accessibility, and others come into play before one can settle on a bank they want to save with.
Below are the 10 best banks in the country based on the factors above. However, this article does not seek to downplay any other bank that is not listed. This is solely based on our research.
1. Standard Chartered Bank
The standard chartered Bank was a British bank founded in the province of South Africa in 1862 by Scot, John Paterson. It has grown from strength to strength with a strong merger and financial standing. Standard Chartered Bank has been the main sponsor of the popular football club Liverpool for the period between 2010 to date, a deal that's worth around £50 Million per year taking into consideration shirt sponsorship, and various branding rights with the sponsorship extending multiple times.
Standard Chartered Bank has a total equity of $50.016 billion as of 2022 with over 83,000 employees and a market presence of 57 and is listed on the London and Hong Kong Stock Exchanges.
They provide a lot of banking services ranging from corporate banking, personal banking, Priority banking, Digital Banking, and Private banking as well as providing personal loans.
Standard Chartered Bank Ghana PLC has 27 branches and 56 ATMs in the major towns and cities and towns in Ghana and holds the record of being the oldest financial institution in West Africa having been established in 1896. With the slogan being "About us, we're here for good" in my opinion, they are here for good! You can check more of their services at sc.com
2. Ecobank Ghana Limited
Ecobank whose official name is Ecobank Transnational Inc. (ETI), is a pan- African banking conglomerate with banking operations in 33 African Countries. Ecobank is the leading regional banking group in West Africa and Central Africa serving both wholesale and retail customers. It has affiliate in France, and representatives' offices in China, Dubai, South Africa, and the United Kingdom.
The shares of Ecobank Transnational Inc., the parent company of Ecobank are traded in three West African Stock Exchanges namely the Ghana Stock Exchange, The Nigeria Stock Exchange, and the BRVM Stock Exchange in Abidjan, Ivory Coast.
As of 2022, Ecobank had total assets of up to GH¢26bn with a total balance sheet of GH¢25.77 billion which is an equivalent of US$ 23.6 billion, and a total equity of US$ 2.52 billion with a total number of 13,000 employees.
Ecobank offers varied services from corporate banking, personal banking, mobile banking, Remittances, internet banking, and various credit card products. Ecobank has over 65 branches and numerous point-of-sale terminals. With their slogan being "the Pan-African Bank" they have demonstrated that over the years. Ecobank can be accessed via https://ecobank.com
3. GCB Bank Ghana Limited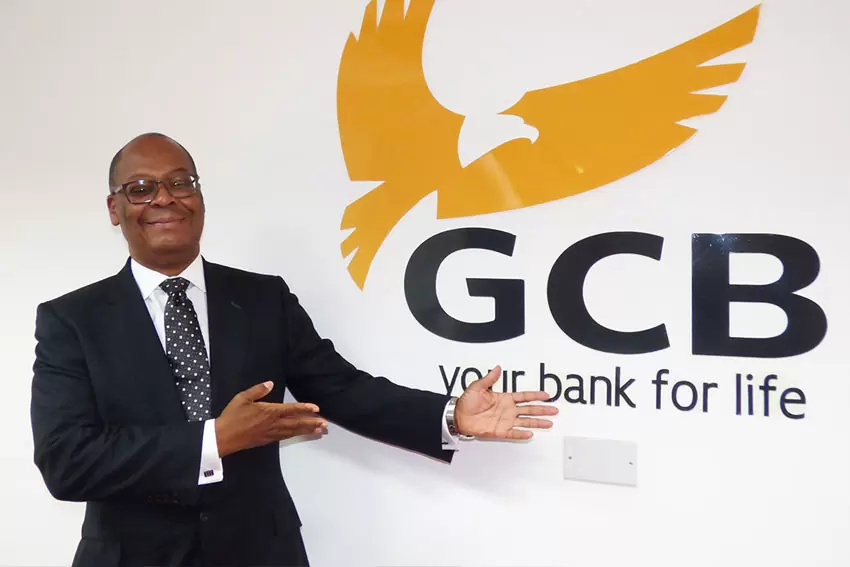 GCB Bank Limited formerly known as Ghana Commercial Bank is the largest bank in Ghana in terms of total operating assets and share of industry deposits with 14.2% of total industry deposits. In 2017 The Bank of Ghana the nation's central bank announced its approval of the purchase and assumption transaction with GCB Bank Limited for the transfer of all deposits and selected assets of UT Bank and Capital Bank to GCB Bank Limited. GCB was initially created to serve as the central bank and banking regulator and was wholly owned by the Government of Ghana.
The GCB Bank Limited shares are listed on the Ghana Stock Exchange and are part of the exchange's GSE all-share index. The government maintains a 21.4% shareholding in the bank while the remaining 78.6% is owned by institutional and private investors. with headquarter in Accra, the country's capital, GCB boast over 184 branches distributed across most urban areas of Ghana.
GCB has total assets of GH¢6.05 billion as of 2016 and a total revenue of GH¢1.06 billion in 2016 as well as a net income of GH¢299 million in the same year. GCB offers a wide range of services to its customers including businessmen, traders and farmers, individuals, small and medium-sized enterprises, parastatal companies, and large corporations ranging from corporate banking, remittances, internet banking, loan services, personal banking, and many more…
With its mission to provide first-class banking solutions for customers and all stakeholders, they have carved a name for themselves in the world of Banking!
4. ABSA Bank of Ghana Limited (formerly Barclays Bank)
Barclays Bank is a British multinational universal bank headquartered in London, England.
Barclays Bank operates in over 40 countries and has over 80,000 employees and is rated as the 5th largest bank in Europe by total assets. It is also the longtime title sponsor of the most popular and highly rated leagues in the world, The English Premier League which started in the 2003-2004 season.
Barclays Bank is now known as ABSA Bank Ghana Limited which operates a network of more than 70 service outlets across the country consisting of over 56 branches, nine prestige centers, three agencies, two premier suites as well as 165 ATM outlets.
As of 2017, ABSA had total assets of GH¢5.95 billion with a net income of GH¢386.17 million and total revenue of GH¢887.3 million in the same year. ABSA bank limited provides excellent banking services and products to its customers from corporate banking, treasury, and retail products, investment solutions, and internet banking, and ensures seamless banking experiences. also employing about 428 individuals across Ghana.
With a slogan of "To bring possibilities to life", ABSA bank Ghana Limited has demonstrated a lot of possibilities and brought smiles to the faces of a lot of people for a better world.
5. Stanbic Bank Ghana Limited
Stanbic Bank started in Africa in 1992 under the operations of the ANZ Grindlays Bank in eight African countries but before that, the bank is known as the standard bank which operated as a South African subsidiary of the British overseas bank. the bank trades under the name Stanbic Bank in Botswana, DR. Congo, Kenya, Malawi, Nigeria, South Sudan, Tanzania, Uganda, Zambia, and Zimbabwe with its headquarters in South Africa.
Stanbic Bank has a total assets value of GH¢18.6 billion with a total revenue value of GH¢31.2 million. it also boasts 861 employees across the country with over 38 branches and over 100 ATM terminals across and offering an array of banking services and products from personal banking, corporate banking, treasury bills, investment banking, internet banking, and personal banking.
With the outbreak of the coronavirus which saw a lot of businesses and individuals grounded, Stanbic Bank unveiled its new tagline "It can be" and new brand promise "finding new ways to make dreams possible" and finding innovative ways to deliver and serve their customers to satisfaction and is known for it customer centric nature. They demonstrated to us that customer satisfaction is their hallmark!
6. Universal Merchant Bank (UMB)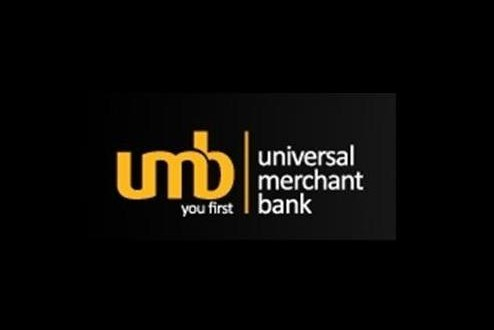 The Universal Merchant Bank opened in 1972 as a merchant bank with the acquisition of a universal bank license in 2005, the bank later introduced retail banking. Its headquarters is in Accra, the capital city of Ghana and formerly known as Merchant Bank Ghana Limited.
The Universal Merchant Bank in 2017 had a net income of GH¢47.64 million, a total asset of GH¢2.99 billion, and a Revenue value of GH¢287.31 million. The bank offers private banking, corporate banking, Internet banking, treasury bills, investment banking, and many more.
The Bank also boasts over 30 branches, one incubator center, and over two UMB centers for business with over 4000 employees across the country. It also boasts of the following achievements over four decades of existence:
The establishment of a hire purchase and leasing business in Ghana.
The promotion and formation of the first Discount House in Ghana.
Handled the share issues of 8 out of 10 companies when there was no Stock Exchange in Ghana in the 1970s.
The initiation of the preparatory work in the establishment of the Ghana Stock Exchange (GSE).
The sponsorship and registration of about 50% of the companies on the GSE.
The arrangement and formation of the mortgage company currently known as HFC Bank Limited
Served as an advisory body in the acquisition of SSB Bank by Societe' General; and
The merger of Ashanti Goldfields and AngloGold.
The UMB bank has shown 'SPEED' in its performance over the years which is part of its values and summed up into speed, passion, excellence, Ethics, and Diligence
7. Fidelity Bank
Fidelity Bank is a commercial bank in Ghana that was issued with a universal banking license in 2006 with its headquarters in Accra. It is one of the ten fastest-growing indigenous banks serving the population of its personal, commercial, and wholesale banking products and services.
Fidelity Bank as of 2017 boasts GH¢ 5.38 billion in assets, GH¢ 522.97 million, with a net income of GH¢90.43 million with an employee population of 1122. Fidelity also has over 70 branches with over 115 ATMs across the country.
Fidelity is always right by you with their first-class customer service in my opinion, they have good customer service with a friendly environment that encourages business and builds trust. they have stood by their slogan "Right by You"
8. UniBank Ghana Limited
UniBank Ghana Limited commonly known as UniBank started as a private bank in Ghana. The bank was placed under administration in 2018 and consolidated as part of the banking crisis and was subsequently placed in receivership and consolidated into the Consolidated Bank Ghana Limited with other four failed banks.
Unibank started as a tier one financial service provider with a total asset value of GH¢1.3 billion with shareholders' equity standing at GH¢151 million and started providing banking services in January 2001 with medium-sized Enterprises (SMEs)in focus as well as individuals. it began offering Internet banking and mobile banking in 2009.
As of May 2017, Unibank maintained over and branches in various Regions as well as the official sponsor of the senior national team, The Blackstars of Ghana which was valued at $1.2 million over 3 years.
As of 2016, Unibank raked in over GH¢392.93 million in revenue with a net income of GH¢41.98 million and a total asset value of GH¢5.74 billion managing over 380 employees across the country.
9. National Investment Bank
National Investment Bank or NIB for short is a state-owned commercial bank in the country.
It is a medium-sized financial services provider in Ghana with a focus as a primary lender to the country's agro-processing, building and construction, manufacturing, and service sectors.
NIB was set up to promote and boost industrialization at the local economic level. As t 2015, NIB raked in GH¢348.83 million with a net income of GH¢120.11 million with a total asset of GH¢2.65 billion with over 52 branches across the country.
10. Zenith Bank
Zenith Bank is a subsidiary of Zenith Bank PLC, a large financial service provider in Nigeria and Anglophone West Africa. Headquartered in Accra, Zenith Bank raked in GH¢3425.24 million, with a net income of GH¢172.55 million and with a total asset value of GH¢4.67 billion in 2017.
Zenith Bank runs over 34 branches and is significant across the country as well as a great number of ATMs terminals. It is also one of the leading banks that provide mobile banking and real-time Internet banking services.
Conclusion
While personal experiences with each of the above-mentioned banks may vary from individual to individual, they have however proven to grow from strength to strength and have demonstrated great value to customers over the years with a strong commitment to meeting the financial needs of their customers.
Let us know if we left out any bank in your opinion that needs to be on the list. We will be glad to read your recommendations in the comment section.