Colleges in Ghana have over the years provided top-tier education for its inhabitants and people from the diaspora. Ghana as a country is known for its hospitality, peace, and serene living conditions.
Aside from these great traits which make the country a great one, it is also fast emerging as a prestigious destination for international students seeking a top-notch, quality, and affordable education.
This article serves as a guide for international students around the world who are not much familiar with the country as it aims to highlight the "The Best Colleges in Ghana for international students."these schools provide a serene environment, affordable tuition fees, peace of mind to learn, and allowing them to explore the rich and diverse culture of Ghana.
Here is a list of universities for international students looking to study at colleges in Ghana;
University of Ghana (UG)
The University of Ghana popularly known as "Legon" due to its location is located in the suburb of the Ghanaian city, Accra about 12 kilometers North-East of the city centre in the popular town Legon located in the Ayawaso West Municipal District of Ghana.
Legon is the popular home to the main campus of the University of Ghana offering a vibrant urban experience.
Tuition for Foreign Students in the Univesity of Ghana ranges from $3000 to $5000 which is very affordable as compared with other countries.
It offers a wide range of various undergraduate and postgraduate programs ranging from Humanities, Fine Arts, Law, Medicine, Administration, Engineering, Agriculture, and Computer Science.
UG offers diverse extracurricular activities and a vibrant campus community in an urban community and urban life. Visit www.ug.edu.gh for more information bout the university.

Kwame Nkrumah University of Science and Technology (KNUST)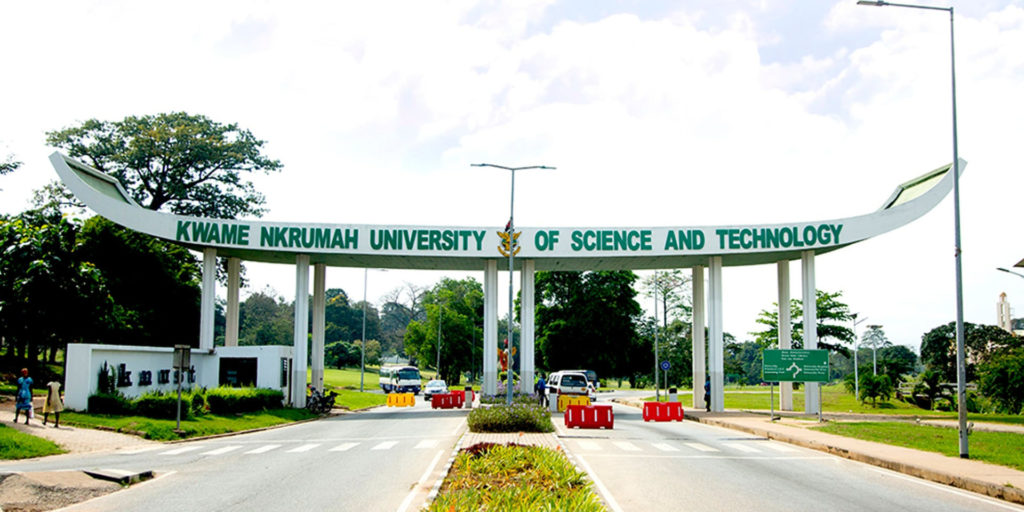 Kwame Nkrumah University of Science and Technology is located in Kumasi in the Ashanti Region of Ghana. It was established in 1952 and has since been firmly growing and expanding ever before. Kumasi is known for its bustling cultural and historical lifestyle and staunch adherence to culture.
KNUST is known basically for Science, Technology, and Engineering disciplines with a wide range of possibilities to explore.
KNUST offers reasonable and affordable tuition for International students ranging from $4000-$7500. However, tuition fee is also dependent on the subjects one studies and not on the course one offers. When you enroll in KNUST, you'll be charged for all subjects you enroll in hence why your tuition fee is dependent on the subjects you study and not the course you offer per see.
KNUST offers great opportunities and diverse programs across Science, Technology, Arts, Engineering, and Business.

KNUST website can be accessed via www.knust.edu.gh

University of Cape Coast (UCC)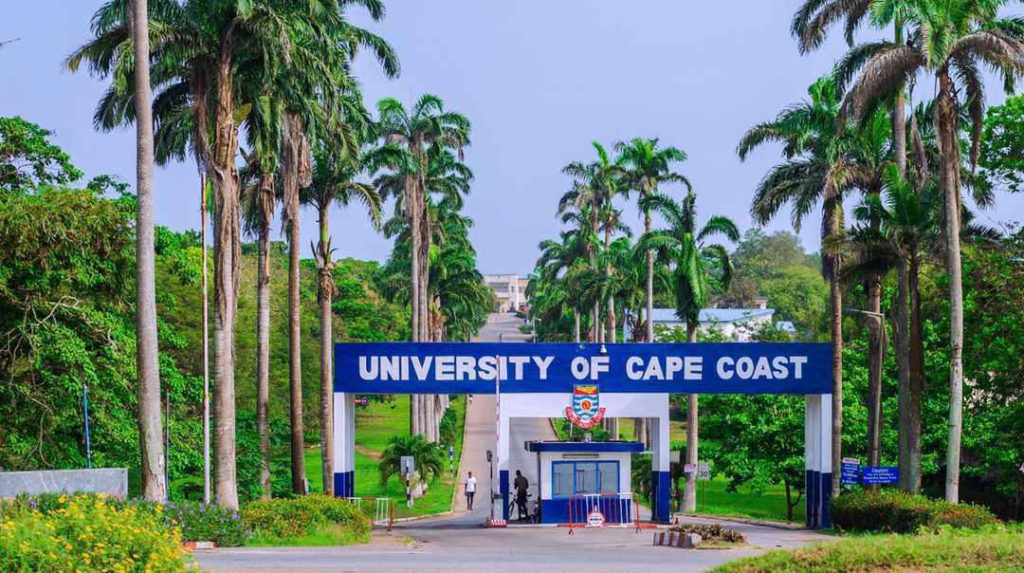 UCC is known for its strong reputation for Education, humanities, and social sciences. UCC controls and regulates all the Teacher Training colleges in the country due to its strong Educational repute.
UCC is located in the first-ever capital city of Ghana, Cape Coast which is set along the picturesque coastline where the first-ever Europeans had initial contact with the indigenous people of Ghana. It is set around the coast giving off a breezy environment coupled with a beautiful and serene environment.
The tuition for International students at the University of Cape Coast ranges from $7,500 per year depending on the program one offers. Aside from the affordability aspect of it, UCC also offers a wide range of scholarship programs for International students.
UCC offers engaging campus life with cultural and recreational activities coupled with a disciplined and orderly environment which they're mostly known for. There's a popular mantra among people whenever there's rowdiness among students from other colleges that goes "UCC could just solve this with a simple quiz" This defines the University's "discipline"
UCC offers a wide range of Undergraduates and postgraduates programs in the field of Humanities and Social sciences Education, Faculty of Arts, School of Business, Faculty of Law, School of Agriculture, school of physical science, Mathematics, and Allied Sciences, with Bachelor of Education(B.Ed), Bachelor of Science(BSC), Bachelor of Arts(BA) certificates. UCC also operates the usual 4 years undergraduate degree program.
More information can be accessed on their official website at www.ucc.edu.gh.
Ashesi University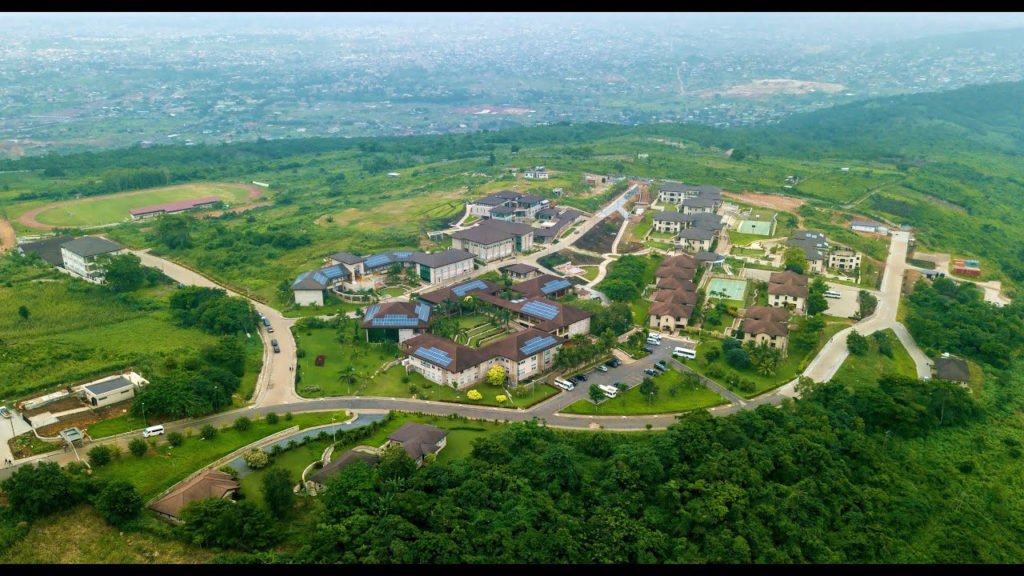 Ashesi is best known for its quality liberal arts education. It is also recognized as one of the best universities in Africa. Ashesi is a non-profit private university.
Ashesi is located on the hills of Berekuso amidst a serene and scenic landscape overlooking the capital city of Ghana, Accra. It is known to have one of the best serene environments for learning. It is the youngest University to have been granted a presidential charter in Ghana's history and a member of the Council of Independent Universities and Association of Commonwealth Universities
Ashesi University fees range from $3000 to $4000 per semester for International students. Ashesi is deemed a little expensive but the courses they offer and the prospects of it are highly valuable and worth every cent they charge. It also has competitive tuition with an emphasis on scholarships
Ashesi University offers the standard four-year degree program immersed in a multidisciplinary core curriculum featuring majors in Management Information Systems, Computer Engineering, Computer Science, Electronic Engineering, Business Administration, Electrical Engineering, Mechanical Engineering, and many more which are aimed at providing students with holistic education and also give students an edge to not only succeed in their chosen field of study but also the real world.
More Information is available on the official website of Ashesi University on www.ashesi.edu.gh
University of Professional Studies (UPSA)
Formerly known as the Institute of Professional Studies (IPS), UPSA is known for its repute in business education and professional development. UPSA prides itself in business-oriented courses and prides itself as the first university in Ghana to offer both academic and business professional education.
UPSA is located in Accra, Madina not far from the Legon Botanical Garden. It is also in the economic bustling city of Ghana with an urban experience and the "business experience" environment which resonates with the aim and ambition of the school.
UPSA offers affordable tuition fees ranging from $3000 to $7000 per year for International students while emphasizing scholarship incentives for students. Fairly competitive fees for students who would want to have a certificate in Business oriented courses.
UPSA offers a wide range of undergraduate and diploma programs ranging from Bachelor in Accounting, Accounting and Finance, Actuarial Science, Business Administration, Marketing, Real Estate Management, Information Technology Management, Banking and Finance, Business Economics, Public Relations, Law, Logistics and Transport management and many more.
UPSA offers virtually all business-related fields of study for prospects all over the world looking forward to acquiring a certificate in Business related fields of studies and also providing opportunities and avenues for professional and business-related networking opportunities.
More information can be accessed on the school's official website at www.upsa.edu.gh
Regent University of Science and Technology
Regent University is best known for its reputation and strong focus on Science, Technology, and Entrepreneurship. It is recognized as one of the leading private science and technology universities in Ghana ranking 3rd in the 14th edition of the webometrics Ranking.
It is located at McCarthy Hill, off the Mallam-Kasoa-Winneba Highway in Accra giving students access to urban amenities and opportunities. The Hills even give the environment its beautiful landscape and serene look.
Regent Ghana offers competitive fees ranging from $5000 to $10,000
per academic year. Regent Ghana however offers scholarship programs and also a good network for the international community.
Regent Ghana has a very active and vibrant lifestyle with various clubs, societies, and leadership programs to give students an edge and a knack for leadership and entrepreneurship.
Regent offers a wide range of Undergraduate and Postgraduate courses that runs from Accounting and Information Systems, Banking and Finance, Economics with Computing, Human Development and Psychology, Theology with Management, Computer Science, Telecommunications, statistics, Law and Corporate Administration, and more.
You can visit their official website at www.regent.edu.gh for more information.
Conclusion
Other institutions like the University of Energy and Natural Resource (UENR), the University of Mines and Technology (UMAT), and the University of Development Studies (UDS) are also known for accommodating international students.
For the most part, Ghana provides a wide range of quality and excellent colleges for International Students seeking to have an array of rich cultural experiences, an affable and affordable environment coupled with lovely people.
All the colleges aforementioned provide diverse programs, competitive fees, and rich student experience whether you want to study in the Sciences, Arts, Business, Humanities, or Engineering.