In Ghana, a licensed app is an app that is properly registered and has been licensed by the Bank of Ghana for them to be eligible to do financial transactions within their limited resource.
There are days when we could all use a little bit of financial assistance. However, not every loan entity out there is approved by the Bank of Ghana, the institution which is in charge of all banking operations in Ghana.
In a previous article, we talked about some of the unlicensed and unregistered apps which were listed as RED FLAGS  by the BANK OF GHANA, the only institution and sole regulator of all financial institutions in our country Ghana.
You can read about that on the List of Unregistered Loan Apps In Ghana
As we talked about the unlicensed apps there is a need for us to also let Ghanaians know about some of the apps which have been duly registered and licensed by the Bank of Ghana and are currently operating under the guidance of the Bank of Ghana. Can you guess a name?
It also means that the Bank of Ghana has stated clearly to them how to perform their operations under their watch including the amount of interest they are supposed to charge their customers depending on the amount of loan, no hidden fees which may be applied on the customer after making their loan repayment.
Some of these licensed loan apps are listed below:
1. FIDO MONEY LENDING
They have been duly registered and licensed by the Bank Of Ghana to undertake financial operations in Ghana. You do not need any guarantor, collateral, or application fees to apply for it. You just need to subscribe to any of our mobile money networks to access the loan. See, it's easy peezy.
How To Access Fido Money Lending
Download the app from Play Store and install it
Register by using your correct details
Fill out the loan forms in the mobile apps with your correct details
When your loan gets approved, you will receive the amount of money you applied for.
2. FairMoney Loan App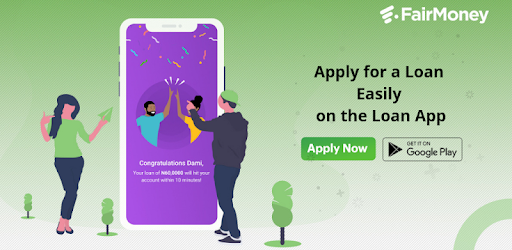 They can quickly offer you a loan to ease the financial difficulty you are going through. It is very convenient too.
How To Apply for FairMoney Loan
Download the app on Google Play Store and install it on your device
Sign up with your phone number linked to your BVN( Bank Verification Number)
You will be made to answer a few questions and give your accurate details to receive your loan offer.
Once you accept the terms of the loan you will receive your loan instantly in your provided Bank account
3. Paylater Loan App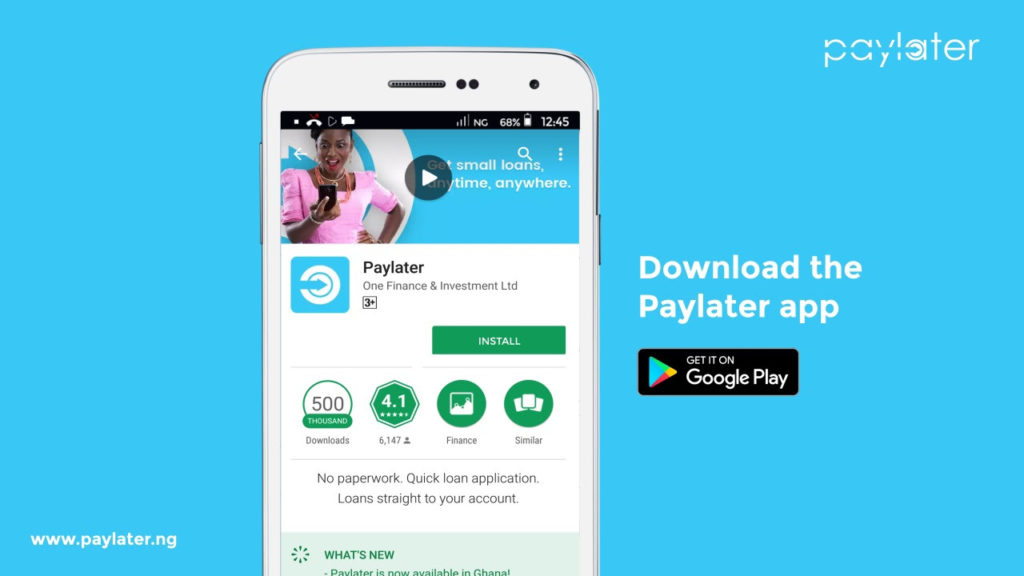 With this loan app, you can receive your money within a few minutes after applying for a loan, you can also refer someone to get a discount on your loan. sweet right?
How To Apply For a Loan on Paylaterloan App
Download the app from Play Store and install it on your device
Create an account with your correct details
Fill out your loan forms on the app
Submit your form details and wait for a review. Once your submission is approved, you get your money instantly in your preferred bank account. Tadaaa.
 4. Branch Loans App
It is always available for their cherished customers to apply for loans. It is a 24/7 app. You can apply for the loan without any collateral, and your money is sent straight into your account after approval.
How To Apply For a Loan on Branch Loan App
Download the app from the Google play store and install it on your device
Create your account with your accurate details for quick and convenient review.
Then you apply for the amount of your preferred loan option.
Your applied loan will be sent straight into your bank account. Kpa kpa kpaaa.
5. Bloomkash Loan App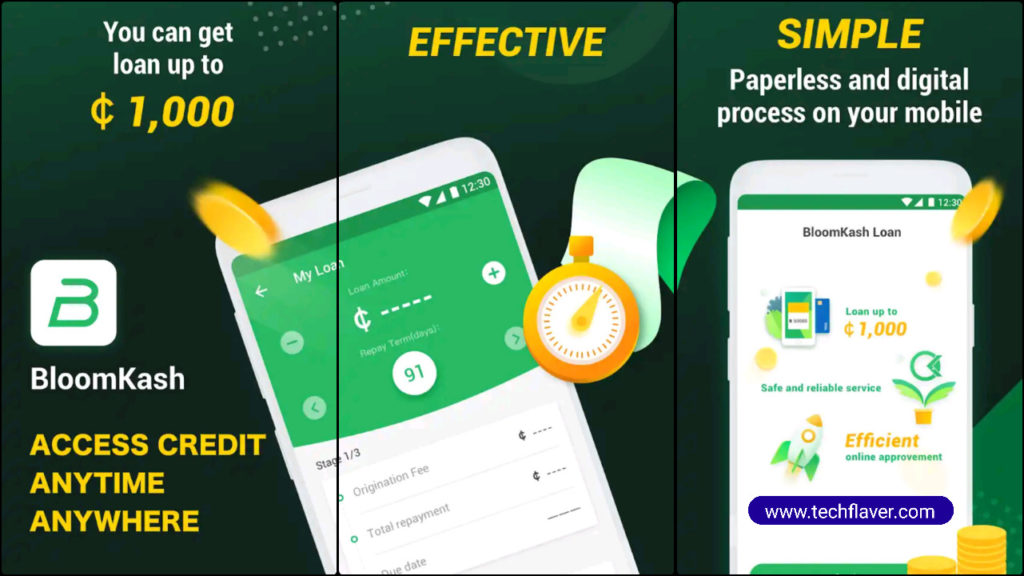 The Bloomkash loan app gives you can access to as much as 1,000 GHC without collateral. First-time lenders can access as much as 65 GHC. The company also offers a daily interest rate between 0.1% to 1%.
How to Borrow from BloomKash Loan App
Download the Bloomkash mobile app from the play store.
Fill out our brief application form with some basic personal information.
Upload valid credentials like National ID, bank statements, and passport photograph.
Once approved, funds are typically received within 5 minutes.
Repay your loan on or before the due date to increase your chances of receiving a higher loan amount and lower interest rate for your next loan.
Some Good Things About Using Registered Loan Apps In Ghana
LOCATION: these licensed apps have been made to provide their locations to the Bank Of Ghana. it also ensures that whenever the customer feels like going to them physically to address a problem he or she will not have any trouble going there. it shows confidence
FLEXIBLE PAYMENT METHOD: since they are working under the laws of the Bank Of Ghana they are given instructions on how to go for their loans even if it means restructuring the loan repayment to enable the customer to pay their loans without stress
NO HIDDEN FEES: All these fees have been catered for by explaining every detail to the customer on what amount of money the customer is supposed to pay since they are operating under the laws of the Bank of Ghana, they cannot charge any exorbitant fees
REGULATED INTEREST RATES: The rates for loan repayment is well regulated to suit the needs of the customer therefore they cannot charge you more than what the Bank of Ghana has laid down for them
CIVIL WAY OF DEMANDING THEIR MONEY: they usually do not make any fuss whenever your loan repayment is due or even if you have defaulted.
Conclusion
loan apps are here to make loaning very easy, accessible, and more convenient. However, it is important to make sure that the loan app you are using is recognized by the Bank of Ghana since it is the head of all financial institutions in the country.
We urge Ghanaians to only borrow money from these licensed and registered loan app companies because of how credible and flexible way of their loan repayment is.
Check the list of registered and verified financial institutions on the official website of the Bank of Ghana.
 Thank you for reading it once again hope you enjoyed this article